Blouberg Seaspray BG03
Bloubergstrand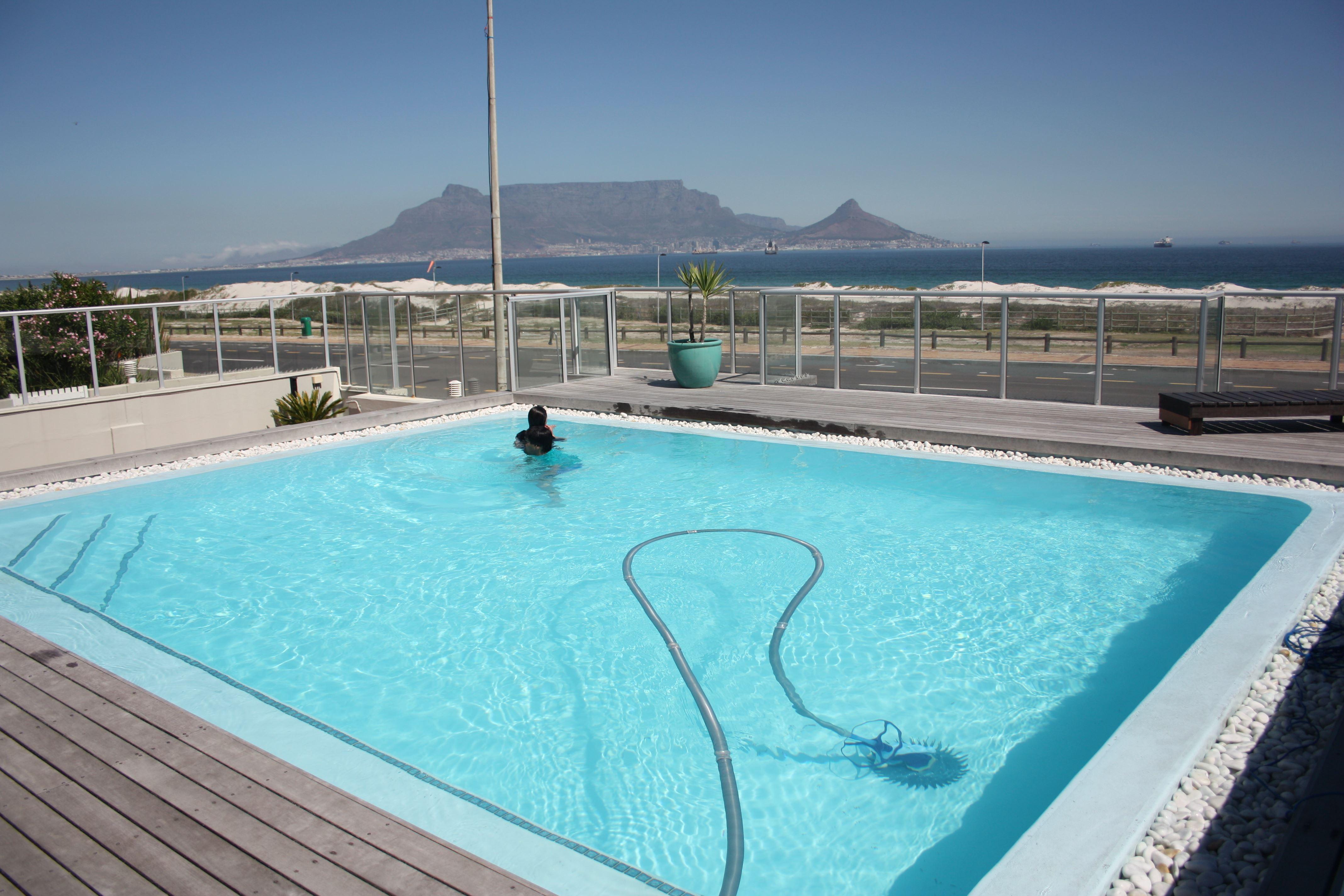 About Blouberg Seaspray BG03
With a view of Table Mountain "floating" in the sea, Seaspray is located directly on the beach in Bloubergstrand and only a stone throw away from the golf course, shops and restaurants. More accurately it is located in Waves Edge, right off Marine Drive. The apartment is luxurious, fully equipped, complete with automatic push-button operated blinds. The 24-hour access-controlled security complex entertains a heated swimming pool with a community area and underground parking. This luxurious unit is the perfect weekend get-away or honeymoon spot. The apartment is located in a small block of flats beautifully situated right in front of Dolphin Beach or Kite Beach as referred to fondly by the kite surfers. Lulu's Seaspray BG03 Apartment consists of a fully -equipped kitchen with granite counter tops, two stylishly decorated bedrooms, each with their own shower and toilet and a lovely dining/living room area with DSTV, Netflix and uncapped WIFI. The main bedroom with its Victorian bath, lit with a French chandelier creates a perfect honeymoon ambiance. The second bedroom is furnished with two bunker beds and this bedroom/bathroom is adapted for the elderly and people with limited walking abilities. A ramp leads into the bathroom area complete with rails to hold onto in both the shower and toilet. The living area leads onto a patio with a fantastic view, equipped with a BBQ stand and garden furniture. In addition to a breath-taking view, and full DSTV, Netflix and wifi, there is an ice-making fridge, induction stove and a dishwasher. This rental property forms the perfect base for kite surfing enthusiasts as it is located right in front of the beach where the annual Red Bull King of the Air kite-surfing competition is held annually. On new year eve the apartment entertains a stunning display of fireworks from the Victoria Albert Waterfront area. The apartment sleeps a maximum of 4 adults and two children. Inverter connected. One small pet welcome.
Beach: Seaspray is right in front of Tableview Beach with its outdoor gym. The apartment has unobscured views of Table Mountain and Robben Island. For a distance of about 3 kilometres there is a cycle/walking path along the beach.
Spa: There are various beauty spas in the vicinity of Seaspray.
Family friendly: Seaspray has a heated swimming pool overlooking the sea and table mountain. The apartment itself has a fenced-in small courtyard with a fantastic view suitable for small children to run in or small pets.
Romantic: You cannot get more romanting than sitting outside, with a glass of something refreshing overlooking Table Mountain and the beach.
Response Rate: 87%
Enquiry Response Time: an hour
Minimum stay: 2 Days
Type: Self-catering
Sleeps: 12
Check-in: 2:00 PM

Check-out: 10:00 AM
Facilities
Airport Shuttle
Wheelchair Enabled
Laundry Facilities*
Braai/Barbecue
Swimming Pool
Beach
Pet Friendly*
Satellite TV*
Hiking
Wi-Fi
No Credit Card Facilities
Parking on Premises
Romantic
Cosy
Kids Stay Free
* Please enquire for further details.
Important Information
There is a basic fee plus a deposit for breakages of R1000.00 which is refundable after 7 days and a cleaning charge of R200.00.

Blouberg – Seaspray GB03
Selfcatering accommodation.

BOOKING TERMS AND CONDITIONS:

1. THE CONTRACT

1.1 The following terms shall apply to all bookings made with AE BARNARD(AEB)... There is a basic fee plus a deposit for breakages of R1000.00 which is refundable after 7 days and a cleaning charge of R200.00.

Blouberg – Seaspray GB03
Selfcatering accommodation.

BOOKING TERMS AND CONDITIONS:

1. THE CONTRACT

1.1 The following terms shall apply to all bookings made with AE BARNARD(AEB) (The Owner);
1.2 The contract is between AE Barnard and "You" the Tenant and all the persons included in the booking form, named or otherwise.
1.3 No alteration, consensual cancellation, variation of, or addition of these terms, including this provision, shall be effective unless approved by both parties and provided in writing and signed by both parties.

2. GENERAL

AEB acts as booking agent for herself, and for you. AEB shall not be liable for any inaccuracies in his website, prices, other literature, or for any deficiencies, defects or failures in respect of the property. Such information is used at your own risk. Neither AEB can be responsible for ensuring that the property is suitable and safe in all respects for you or your party's needs as it stands it is suitable and safe under general terms and those of the body corporate.

Changes can occur, AEB reserves the right to change or alter the property booking and shall not be liable to you, or any other person/s for any loss, expense, and inconvenience or claim therefrom. AEB will advise you of any changes and a full refund following a material change will be made other than "Force Majeure." Any issues arising from these conditions shall be resolved
between AEB and yourself directly.

The safety standards and regulations in South Africa are not necessarily the same as the equivalent standards outside South Africa. The appropriate authorities carry out the monitoring and enforcement of, and compliance with local regulations. It is in your interests to take all necessary precautions to protect yourself and your family whilst on holiday.

3. BOOKING AND PAYING FOR YOUR HOLIDAY

This booking is only confirmed after the booking deposit has been paid, said deposit which is 50% pf the total invoices needs to be paid within 7 (seven) days of request of booking (see booking form), the Booking Form signed and confirmed by AEB received - until such time the booking is deemed not to have been confirmed.
You will be responsible for the payment of a refundable damages and or loss deposit. If the deposit fails to cover the damages/loss or services, AEB is entitled to recover any additional costs from you.
The damages deposit is NOT applied toward rent; however, it is fully refundable within (7) days of departure, provided the following provisions are met:

• No damage is done to property or its contents, beyond normal wear and tear.
• No charges are incurred due to illegal activity, pets or collection of rents or services rendered during the stay.
• All debris, rubbish and discards are placed in rubbish bin, and soiled dishes are either
placed in the wash up sink and/or cleaned.
• All keys are left on the kitchen counter and unit is left locked.
• All charges accrued during the stay are paid prior to departure.
• No linens or property belong in the apartment are lost or damaged.
• NO early arrival or late departure.
• Access discs and keys are left inside the unit upon departure.
• The renter is not evicted by the owner (or representative of the owner) or the local law enforcement.

The accommodation prices charged are "per night". You are liable for the final rental payment 14 days prior to the arrival date.

You are liable for all forex transactional costs – if required.
This is self-catering accommodation. The rental does not include everyday living or household expenses, personal items, any baby's equipment, telephone charges, holiday insurance, damages deposits or additional staff hours or services. These conditions are general and may vary; you will be informed of any significant changes. Should you require daily cleaning services a domestic worker can be arranged at R200 per day (09.00 to 15.00), said worker being entitled to 1 hour lunch break, unless otherwise agreed.

4. CANCELLATION

AEB shall have the right to cancel should the Tenant fail to pay any amount timeously. Subject only to the above provision relating to AEB's right to cancel, neither AEB nor you may unilaterally withdraw from or purport to cancel these conditions. In the event of you wishing to withdraw from these conditions, you must notify AEB in writing in which event the following charges will apply:

• Cancellation 30+ days before arrival date - 75% of deposit paid or 50% of full quote value (whichever is greater) is forfeited.
• Cancellation 30-60 days before arrival date – 100% of deposit paid or 50% of full quote value (whichever is greater) is forfeited
• Cancellation 0-30 days before arrival date – full payment is forfeited
• Cancellation on arrival or during the stay – the full payment due may be levied.
• In the event of premature departure, we may charge for the full extent of the stay that was booked and confirmed
• We advise you to obtain Holiday cancellation insurance.

5. ACCOMMODATION

The property is a private home and far removed from the basic holiday rental property and this is reflected in the style and standard of the fittings. As a result the property may have a few personal items lying around, and these should be treated with due care. AEB cannot be held responsible for any unreasonable noise levels or disturbance originating beyond the boundaries of the property or which are beyond his control. Abandonment of the property without authorization of AEB will lead to forfeiture of all rights of compensation.
AEB does not accept any responsibility for any lack of equipment or any failure of the facilities available at the property including the breakdown of any mechanical equipment or for the failure of any public utilities during your stay.

6. OCCUPANCY

• The rental period shall begin at 2.00pm (14.00) on arrival date and finish at 10.00am (10.00) on departure date (unless specified on the Booking Form) or otherwise arranged.
• Early arrivals and late departures are charged at a half day rate. Any additional days by which the rental period is extended shall be charged at "the rate per night" figure, as reflected in the booking form attached hereto, and paid to AEB forthwith. The Property is provided only for the use of those persons named. No more than the agreed number of persons is allowed to occupy the property and no refund shall be payable in the event of a lesser number of persons occupying the property. Sub-letting, sharing or assignment is prohibited. In the event the maximum number is exceeded without prior agreement, AEB reserves the right to either increase the daily rental rate or revoke the booking with no refund or compensation to you.



7. THE OWNERS' RESPONSIBILITIES

7.1 The property will be made available to you at the agreed dates and times failing which all monies paid will be returned to you, by AEB, immediately.
7.2 Provided you have paid the rental and observed your remaining obligations you shall peacefully occupy and enjoy the property during the rental period.
7.3 The Owner undertakes to leave the apartment on a good and clean condition and agrees to pay all rates, licenses, taxes, water, telephone charges, gas and electricity in respect of the premises.
7.4 The Owner undertakes to provide all linen and towels for the property.
7.5 The Owner will use his best endeavours to repair breakages and or damages caused to the apartment during your stay and arrange for these problems to be resolved as soon as possible. You shall be liable for any breakages or damages caused to the property due to your own negligence or that of any member tenant.
7.6 Should the Owner make any significant material alterations to the property you will be informed of any changes.
7.7 Should the Tenant have to be relocated as a result of the property being unfit for occupation the Owner shall be liable for the costs of re-accommodating the tenant in similar accommodation (only) for the duration of the inconvenience except where the cause is due to tenant negligence.

8. YOUR RESPONSIBILITIES

8.1 You are responsible for the property during your stay and acknowledge that your belongings and those of your family, guests and visitors are at all times held at your own risk.
8.2 You must ensure that the property and all household items and equipment are treated with care and returned in the same good condition as found. All damages or breakages must be reported to AEB as soon as possible. You shall be liable for any breakages or damages caused to the property due to your negligence.
8.3 The property shall be used solely for residential purposes and you are not to allow any activity on the property which is illegal or which may constitute a nuisance or annoyance to anyone so making the properties insurance policies void or voidable. You are responsible for the correct and decent behaviour of all occupants and guests. In breach of any of the above you and your party will be notified in writing to vacate the property with no refund; this will be at AEB's sole and absolute discretion. ENTERTAINMENT at the home is restricted to the number of place settings provided, usually a maximum of 8.
8.4 No household item whatsoever (unless specifically available for use on beach outings or picnics) can be removed from the Property.
8.5 Strictly NO SMOKING in the home.
8.6 No pets are allowed on the property.
8.7 The cost of any property damage, loss or breakages are not included in the rental, these costs if any are payable at the end of your holiday.
8.8 It is your responsibility to ensure that on leaving the apartment or property unattended at any time during the rental period that the apartment and property is secure with all windows and doors locked.
8.9 You must allow AEB, who will give reasonable prior notice to inspect the property during your stay – if necessary.

9. STAFF

You should note that certain overseas standards are often quite different than those accepted in South Africa; this can include the levels of service and the reliability of the staff. You should also be aware that the legal, health and safety requirements could be lower in standard than those to which you are accustomed. There is a member of staff on duty (1 day per week) except bank (public) holidays. Duties include the general everyday cleaning of the apartment and laundry services (at the tenant's risk). Should you require the staff to work any additional hours or services, this can be arranged directly with the staff at R200 for the day payable daily or as agreed between the parties.



10. SWIMMING POOL

Swimming pools carry their own inherent risks. Take time to familiarize yourselves with the pool and its layout. Persons and children in particular, who cannot swim must be closely supervised by you who hereby waives and indemnifies the Owner and AEB against any claim arising from personal injury or loss of life occasioned directly or indirectly through the use of the pool.. Clarity changes are beyond AEB's control. Please be aware it is a communal pool and appropriate behaviour is expected at all times. Any unruly behaviour could result in your having to vacate the apartment with short notice and no compensation.

11. INSURANCE

It is a condition of booking that you and your party is covered by comprehensive travel, personal liability, damages, medical and holiday and cancellation protection insurance from the date of arrival until departure from the property, including a 24 hour service for repatriation out of South Africa if necessary.

12. COMPLAINTS

Within 24 hours of your arrival and unless you give notice to the contrary, it shall be deemed and acknowledged that the property is in good order. In the event that you have cause for complaint whilst at the property you must bring it to our attention so that we have the opportunity to correct the matter.

13. FORCE MAJEURE

Neither you, the owner, any member of their family, nor any employee nor agent shall have any claim against any of the others listed herein (see booking form) or their guests as a result of any loss or harm suffered by them with regard to this contract as a result of an event of Force Majeure which may include, but is not limited to war, civil strife or unrest, terrorist activity, strikes or industrial dispute, fire, flood.

14. LAW AND JURISDICTION

The parties hereby consent to the jurisdiction of the Magistrate's Court of Cape Town, South Africa in respect of all proceedings under or arising out of this agreement.

15. PASSPORTS

South African immigration laws require all visitors' passports to have at least two blank pages and to be valid at least six months from your planned date of departure from South Africa. The law is rigorously enforced, so please check your passports.



see more
Blouberg Seaspray BG03 Map
Click to display the map
Blouberg Seaspray BG03 is 1.2km from the centre of Blouberg , the nearest airport 21.1km (Cape Town International Airport).
*Distances are shown as the crow flies and not necessarily the actual travelling